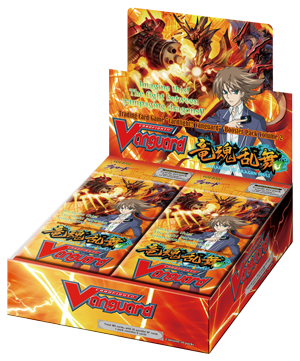 OCG Name:

竜魂乱舞 (りゅこんらんぶ)

Phonetic:

Ryūkon Ranbu

Translation:

Onslaught of Dragon Souls

Release Date:

May 28th, 2011 (JP)
March 3, 2012 (EN, Singapore)
March 10, 2012 (EN, International)
Contenu :
Total de 80 cartes différentes (8x RRR, 12x RR, 20x R, 40x C) + 12x SP (Parallèle)
L'illustration du booster est composée des Blazing Coe Dragon, Iron Tail Dragon et Gatling Claw Dragon de Toshiki Kai.
Slogan du booster : « Image this! The fight between rampaging dragons! »
• Le thème de ce booster tourne autour des Dragons et de la Soul, se concentrant sur la Soul Charge et sur le Soul Blast.
• De nouveux clans sont introduits dans ce booster, « Bermuda Triangle » et « Great Nature ».
• Davantage de Trigger Units sont introduits dans ce booster, rendant les Decks « Spike Brothers » et « Granblue » possibles.
• Les premiers effets tenant rigueur des races des Units apparaissent dans ce booster.
• Les cartes de ce booster sont apparues dès le 17ième épisode. Le booster existe également dans l'animé sous le même nom. Cependant, 2 des cartes de cette extension (Silent Tom et Winder Dragon, Skyptero) ont fait une apparition prématurée dans l'animé avant l'épisode 17.
• Les RRR de cette extension ont une brillance différente de la BT01. Plutôt que des blocs, ils ont une série de lignes horizontales et verticales
• Les R ont aussi une brillance différente ; plutôt qu'un effet « glace brisée », ils ont une série de points dispersés au hasard.
• Cette extension comprend 10 clans différents : Spike Brothers, Granblue, Royal Paladin, Bermuda Triangle, Oracle Think Tank, Nova Grappler, Tachikaze, Megacolony, Great Nature et Kagero.
Galerie d'images BT02