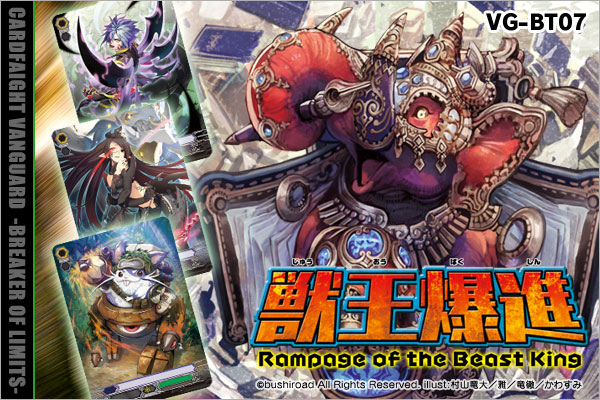 Japanese Name:

獣王爆進 (じゅうおうばくしん)

Phonetic:

Jūō Bakushin

Translation:

Rampage of the Beast King

Release Date:

July 7th, 2012 (JP)
September 22, 2012 (EN, Singapore)
September 29, 2012 (EN, International)
Contenu :

Il y a un total de 102 cartes différentes (RRR x8, RR x12, R x22, C x60) + SP x12 (Parallèle).
• Inclut plus de support pour Great Nature, Pae Moon, Dark Irregulars, Gold Paladin, Angel Feather et Oracle Think Tank
• Les premières productions de displays de BT07 ont un Deck Separator avec eux.
• Le booster présente le plus grand institut d'enseignement de la Planète Cray, l'Université Great Nature.
• Ce booster présentera des Units qu'Aichi et son équipe rencontreront durant l'Asia Circuit, et plus d'Units avec un Limit Break vont faire surface.
• Faire un Deck Great Nature sera désormais possible grâce aux Triggers présents dans cette extension
• Pour chaque display de l'extension achetée en English Version, une promo Alfred Early vous sera offerte.