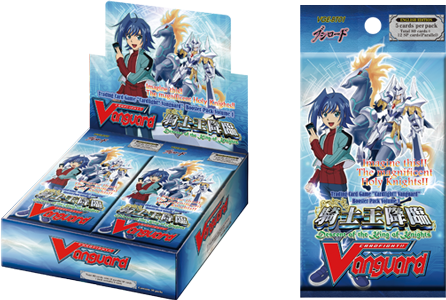 Japanese Name:

騎士王降臨

Translation:
Release Date:
 Descent of the King of KnightsMarch 12th, 2011 (JP)
December 3, 2011 (EN, Singapore)
December 10, 2011 (EN, International)
Contenu :
Total de 80 cartes différentes (8x RRR, 12x RR, 20x R, 40x C) + 12x SP (Parallèle)
L'illustration du booster est composé de Aichi Sendou et King of Knights, Alfred
Le slogan du booster : 
« 
Imagine this!! The magnificent Holy Knights!!
« 
• Les nouveaux clans introduits ici :

《

Nova Grappler

》, 《

Spike Brothers

》, 《

Megacolony

》, 《

Tachikaze

》, 《

Nubatama

》, 《

Granblue

》, 《

Dark Irregulars

》 《

Oracle Think Tank

》
• Se concentre sur les cartes « Royal Paladin », « Kagero », « Oracle Think Tank », « Nova Grappler » apparues dans l'animé, de l'épisode 1 à l'épisode 13