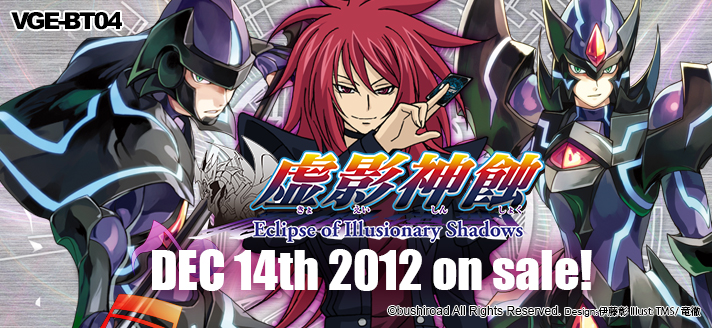 October 29th, 2011(JP)
December 8th, 2012(EN, Singapore)
December 15th, 2012(EN, International)
Contenu :
• Total de 80 cartes différentes (8x RRR, 12x RR, 20x R, 40x C) + 12x SP (Parallèle)
• Illustration : Suzugamori Ren ; Blaster Dark ; Blaster Javelin ; Fullbau ; Darkside Trumpeter
Slogan du booster : « Followers of the Empty Power, now gather here… »
• Le nouveau clan « Shadow Paladin » est introduit.
• Le premier booster qui n'introduit qu'un seul clan et apporte du support pour 5 autres clans existants à la place.
• Plus de Trigger Units sont introduits, rendant les clans « Shadow Paladin », « Dimension Police » et « Megacolony » jouables.
• La brillance des cartes R a changé encore une fois, mais celles des RRR et SP sont restées identiques à celle de l'extension Demonic Lord Invasion
• La première carte (Phantom Blaster Dragon) à avoir un artwork alternatif pour sa version SP depuis l'extension Descent of the King of Knights est incluse dans cette extension.
• Les displays des premières éditions comprendront l'un des 8 Deck Separators parmi : Phantom Blaster Dragon (art SP), Blaster Dark, Black Sage Charon, Enigman Storm, Elite Phantom Giraffa, Amber Dragon « Eclipse », Blaukruger ou Fang of Light, Garmore
• Cette extension comprend 6 clans différents. Il y a des cartes pour Shadow Paladin, Dimension Police, Kagero, Nova Grappler, Royal Paladin et Megacolony
• Chaque display de la version anglaise de cette extension comprendra les cartes suivantes :